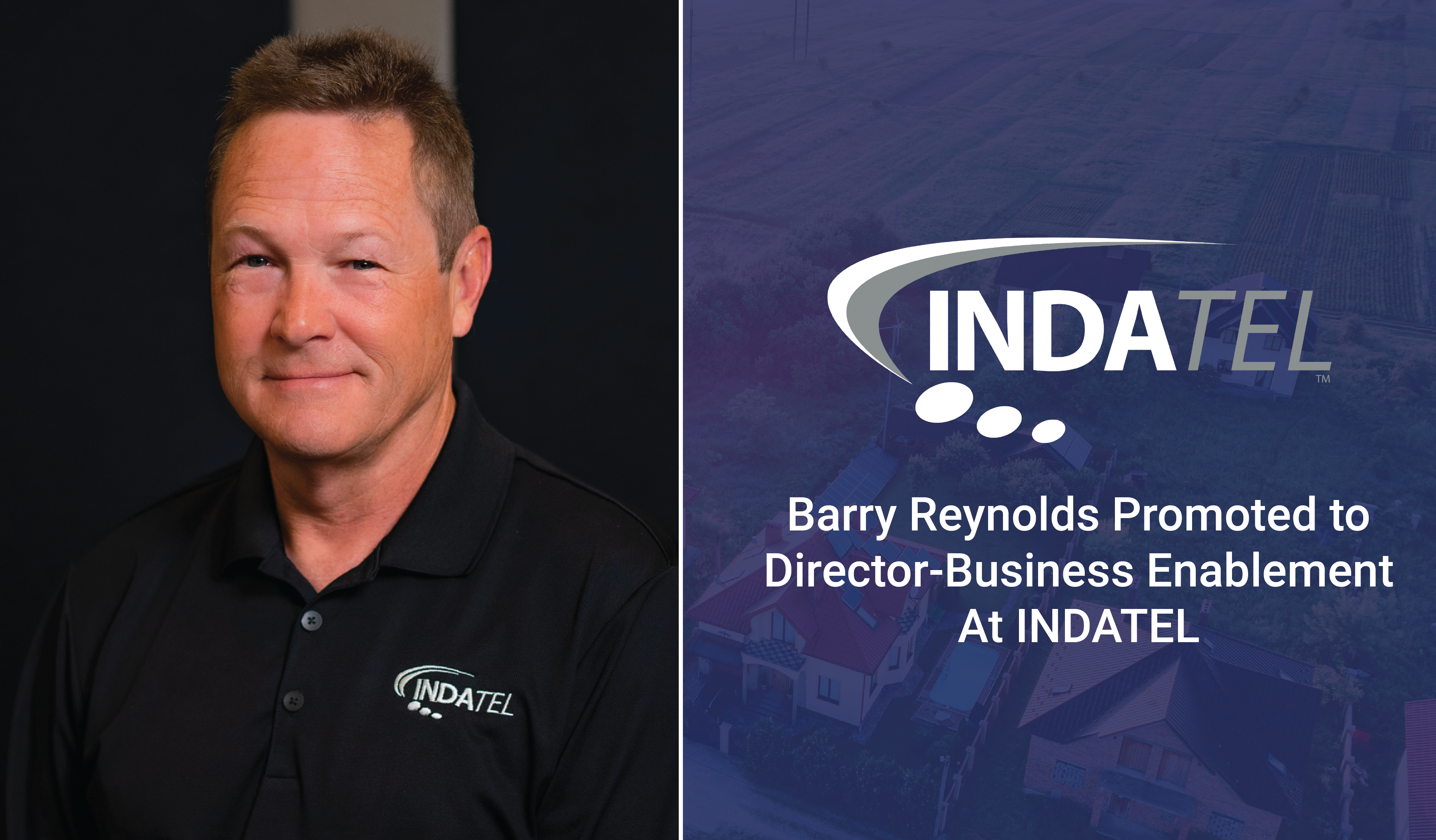 Barry Reynolds Promoted to Director – Business Enablement
Overland Park, KS – September 21, 2022 – INDATEL is excited to announce the promotion of Barry Reynolds to Director of Business Enablement. Reynolds has recently celebrated his two-year anniversary at INDATEL. Over the first two years of his career at INDATEL, he spent his time working on organizing members' building lists and rate cards, identifying and onboarding new fiber providers, negotiating and preparing contracts and service agreements, and helping with various projects. Since his time in his role, they were able to grow their serviceable building list by 200%.
As the Director of Business Enablement, Barry is excited to take INDATEL to the next level. He is excited to work with the National Account Managers and help them develop and evolve their customers. He is impassioned to teach clients how to master the use of INDATEL and fine-tune responses to clients. Reynolds said, "INDATEL is unique and in a niche market. We want to improve our access and quote-to-sales type ratio, allowing our customers to have different choices. It's about listening to the customers and responding to their needs."
Furthermore, Barry has some large aspirations in his role. He will dive into identifying the companies that are awarded grants and align services to them. He hopes to bring on new providers with fresh fiber and help them monetize and grow their connections, while increasing their revenues at the same time. "Connecting America, that's what this is about," Reynolds explained.
INDATEL, with Barry's leadership and direction, will increase the range of products and services available in 2023. He hopes to amplify development of automation with some of the critical processes that support INDATEL and their clients. This includes standardizing quoting tools, tools for the account executive, tools for the sales coordinators, and tools for customers to be able to quote near real time.
One thing Reynolds wanted to share about his career at the firm, "INDATEL values everyone, I am grateful for the promotion and opportunity. I am looking forward to taking our team to the next level."
On behalf of the INDATEL team, we congratulate Barry on his new role and look forward to his passion and guidance as we approach 2023.
About INDATEL
INDATEL Services provides fiber connectivity utilizing its unique independent member network. INDATEL's members represent more than 400,000 fiber optic route miles and over 1.5 million serviceable buildings primarily focused on rural and suburban America. INDATEL serves its customers through its national aggregation PoPs reaching over 700 independent providers currently operating in 47 states. For more information about INDATEL Services, visit www.indatel.com.