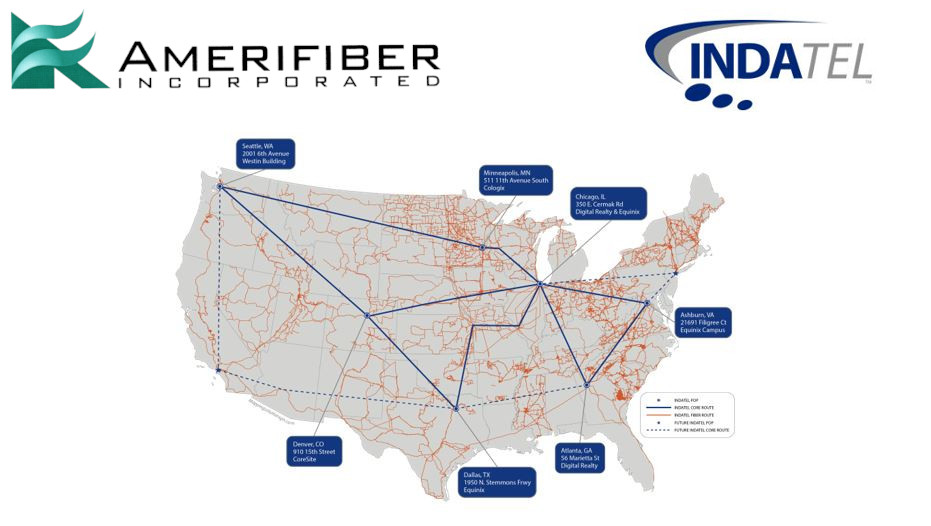 Amerifiber joins INDATEL's Supplier Affiliate Ranks
Roswell, GA – July 29, 2020 – Leading fiber-optics material supplier Amerifiber has been invited to join premier broadband telecommunications solutions provider INDATEL as a Supplier Affiliate Member. The announcement was made today by Amerifiber CEO, Jim Leeman, and General Manager, Tim Leeman.
"Amerifiber has already been working with INDATEL members, such as OPTK Networks, SEGRA, IRIS, and others," comments Jim Leeman. "We're excited to partner with INDATEL members by providing distinctive solutions, tailored for connecting rural America."
INDATEL has a proven track record for servicing rural and urban communities by delivering reliable broadband connectivity through fiber-optic network routes across America via their powerful partner network. The INDATEL network collectively represents member-owners and affiliates servicing more than 5,000 communities. The company's national members represent more than 400,000 fiber-optic route miles and over 1,000,000 serviceable buildings.
"Amerifiber is an ideal preferred vendor that promotes the ideals of INDATEL", said Mel Wagner, CEO, INDATEL.  "We look forward to providing them a platform to work with all of our members, providing value-added services for them and their customers."
"We're delighted to join a nationwide network that provides best-in-class connectivity and reliable bandwidth solutions within rural and urban areas," adds Tim Leeman.  "This membership empowers Amerifiber to facilitate the growth of our client base, enabling us to significantly expand our business to new potential partners and customers in these often underserved areas."
Amerifiber also recently signed the White House's "Pledge to America's Workers," committing to certify workers to empower new or advanced careers in the dynamic telecom industry.
About Amerifiber
Founded in 2004, Amerifiber is a full service, customer-first manufacturer and distributor of the best-in-class fiber-optic and custom FTTx products. With over 30 years in the telecom industry, Amerifiber's team has the knowledge, resources, and expertise to create custom-built, high-quality fiber-optic solutions. The company is committed to providing the FTTx solution that best meets a client's needs by merging best-in-class hardware with an incredible attention to detail and the ability to deliver on demand. The company is based in Roswell, Georgia. www.amerifiber.com
About INDATEL Services
INDATEL Services provides telecommunication services through its members and customers across America. INDATEL is uniquely positioned to provide telecommunications services via 30 state and regional wholesale member-owners and affiliates serving thousands of small towns and rural communities. INDATEL's national members represent more than 400,000 fiber miles and over 1,000,000 serviceable buildings. INDATEL and its members serve 1,100 nationwide points of presence representing 700 independent Rural Telephone providers operating in 47 states. For more information about INDATEL Services, visit www.indatel.com