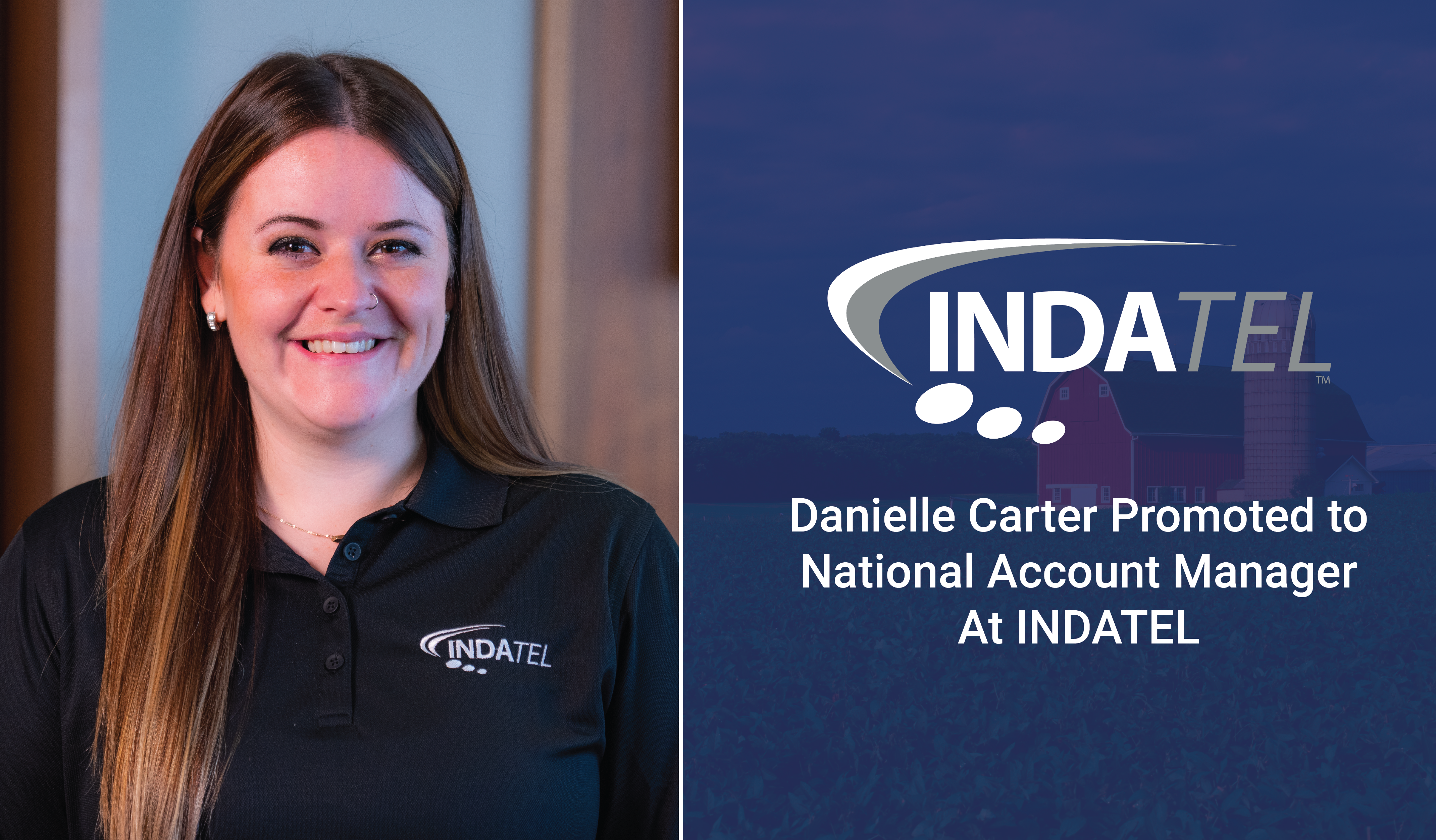 Dani Carter Promoted to National Account Manager
Overland Park, KS – September 14, 2022 – INDATEL is excited to announce the promotion of Dani Carter to National Account Manager. Carter has been with the company since early 2020 and previously served as a Sales Coordinator under the direction of Riley Mueller.
The sales coordinator role was her first sales position in the industry. She knew a career in sales was certainly a learning journey but her team at INDATEL was there to support her every step of the way. She was thrilled at the flexibility and work/life balance that INDATEL provided.
The National Account Manager role is something that Dani is proud of. It's a role that she feels that she has been able to build for herself and was able to position herself as a valuable resource. "I really feel like a business owner. I can make decisions without a lot of red tape to go through. I can make process improvements and decisions that benefit everyone at the end of the day. I am taking the bull by the horns, am super pumped to grow our accounts, and am ready to dig in to support our customers," says Carter. She is eager to meet customers, partners, and members and support the growth of the organization.
Furthermore, Dani is going to be assisting in the training process of other team members to help them grow and realize a growth path for themselves. Her main role, however, is to support the growth goals of INDATEL. She is looking forward as INDATEL continues to grow the leadership team and align with those expectations. Right now, she is focused on promoting the value of INDATEL and working to eliminate the coverage gaps that exist across the nation in rural areas and build their members' networks.
When asked her favorite things about INDATEL, "I love how nimble the company is and our ability to make changes very quickly. I remember within my first month, I suggested a change to something, and it was an idea that everyone thought was a good recommendation, and it was implemented, and I felt heard. I love how small we are, we all know each other. I haven't worked for a company that small and close to each other. We are looking forward to celebrating with each other at an upcoming Chief's potluck."
One thing Carter wanted to share is, "at the end of the day I want to thank INDATEL, Mel, and thank all my co-workers. It is nice to be empowered, and I am very thankful for my new role."
On behalf of the INDATEL team, we congratulate Dani on her new role and are excited to see where her career at INDATEL takes her in the future!
About INDATEL
INDATEL Services provides fiber connectivity utilizing its unique independent member network. INDATEL's members represent more than 400,000 fiber optic route miles and over 1.5 million serviceable buildings primarily focused on rural and suburban America. INDATEL serves its customers through its national aggregation PoPs reaching over 700 independent providers currently operating in 47 states. For more information about INDATEL Services, visit www.indatel.com.