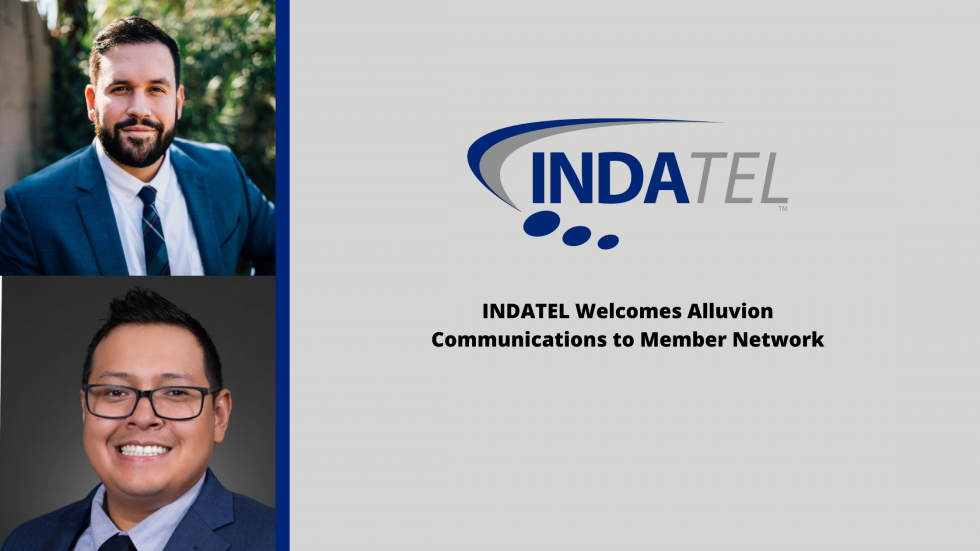 INDATEL Welcomes Alluvion Communications to Member Network
Overland Park, KS – January 29, 2020 – INDATEL is excited to announce the addition of Alluvion Communications to our member family. Each of our members are selected carefully and excel in delivering reliable broadband connectivity via fiber-optic network routes throughout rural and metro communities across America.
Alluvion's mission is to build and support robust networks creating opportunity and economic growth for their community by meeting the mission-critical needs of businesses and their customers. They provide cost-effective communications with unsurpassed reliability that easily scale to meet your needs.
According to David Ackerman, General Manager at Alluvion, they chose to become a member of INDATEL because they share a lot of the same values including a focus on rural America and exposure to nationwide deals and opportunities. "I think our partnership will benefit Alluvion but also benefit INDATEL, because they don't have a partner in Arizona," he said. "It's a complimentary and natural fit."
Duncan Wiston, Brand Marketing Specialist at Alluvion agrees. "I think our partnership with INDATEL goes a long way by helping us to achieve our vision which is to be earth's smartest, fastest and most reliable communications provider, freeing our customers of boundless bandwidth," he said. "I think this is a huge step toward that vision."
When asked what sets INDATEL apart in the industry, David and Duncan both explained that there are many aspects of INDATEL that are different and caused Alluvion to become a member. "I think the vision that INDATEL has is what really differentiates them in the industry. They focus on rural and their partnerships are carefully selected," David said. "I think that contributes to an excellent execution."
During the unprecedented times of COVID-19, Alluvion has experienced a change in demand for services, both positive and negative. The demand from downstream providers has increased as adults continue to work from home and kids transition to remote learning. However, due to the pandemic, there has also been a decrease in government spending and decisions surrounding that spending.
As a result, Alluvion has taken steps to handle the recent changes including focusing on community by providing three free months of voice services. They also improved the data pricing for downstream providers and the efficiency of getting the services turned up. "Our biggest goal through all of this is making sure we're there for our customers. Whatever their needs are, we are trying to pivot to meet those needs during these times when everything is up in the air," David said.
Alluvion recognizes that enabling the ability to work from home is not something a lot of small businesses prepared for, so they are dedicated to being a resource and providing education on the options that are available to help small businesses in their area survive. They have done this by publishing blogs, reaching out to their partners and local chambers, providing thought leadership, and more.
As we near the end of the year, Alluvion has quite a few goals and objectives they would like to bring with them into 2021 including team, network and revenue growth. "I look forward to expanding our reach into a lot of the rural communities around the county. I grew up in a community where I experienced being on the wrong side of the digital divide, so I'm excited to bring that to communities much like the one I grew up in," Duncan said.
INDATEL values their member relationships and have built an exceptional reputation in the industry for delivering Ethernet, transit, peering and cloud services to rural America. We are excited about our partnership with Alluvion and hope to have them as a part of the member family for years to come.
About INDATEL
INDATEL Services provides fiber connectivity utilizing its unique independent member network. INDATEL's members represent more than 400,000 fiber-optic route miles and over 1.5 million serviceable buildings primarily focused on rural and suburban America. INDATEL serves its customers through its national aggregation PoPs, reaching over 700 independent providers currently operating in 47 states. For more information about INDATEL Services, visit www.indatel.com