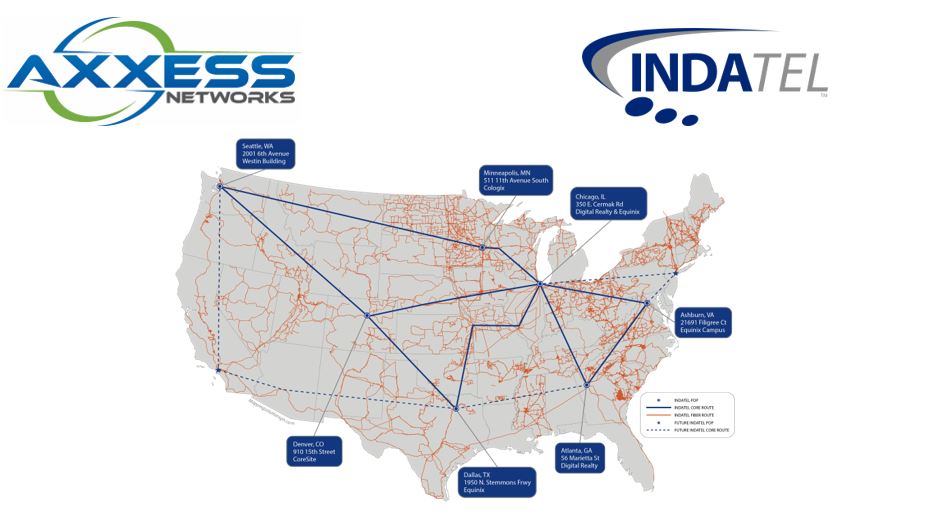 AXXESS Networks and INDATEL Announce Strategic Partnership
Kansas City, KS., Philadelphia, PA., June 3, 2019 /PRNewswire/ — AXXESS Networks and INDATEL Services announced today a strategic partnership where AXXESS Networks will provide Geo-Redundant VoIP business solutions including Unified Communications, Hosted PBX, VoIP and SIP trunking services to INDATEL's 30 national members and customers, including more than 700 independent telephone exchange providers and 5,000 communities across the country.
AXXESS Networks will provide INDATEL members and customers with feature-rich, cost-effective, customized VoIP solutions. The customer experience will be managed start to finish utilizing hands-on expertise including white-glove, "no-fault" customer support. AXXESS Networks' services will be available throughout the country to INDATEL's members and customers including enterprise, SMB, government, education, healthcare, and other segments. INDATEL's operating members and owners include more than 700 independent exchange providers in 47 states with more than 400,000 on-network buildings. Global Secure will serve as AXXESS Networks national sales partner for INDATEL members and customers.
"The INDATEL-AXXESS Networks partnership combines INDATEL's unique rural members/owners with AXXESS Networks enhanced VoIP/Unified Communication services. Our members will benefit from having a best-in-class offering that is a low-touch, white-gloves experience for their clients. Having additional products also increases the stickiness of the services they offer today. INDATEL exists to provide value to our members. When we see technology that will benefit our members and help them secure additional revenue, we will pursue it. " said Justin Forte, INDATEL Vice President of Sales & Marketing.
"AXXESS Networks will provide INDATEL'S members and customers with a fully supported program that allows them to begin offering VoIP services quickly. AXXESS Networks ability to collaborate pre-sale and provide customized engineering, installation, and post-installation support reduces INDATEL's members' time to market and financial expenditures. This is yet another AXXESS Networks differentiator. INDATEL and AXXESS Networks share strong cultures dedicated to their customers, and this is an extension of that commitment. Together with INDATEL, this provides members and customers with a powerful opportunity", said Sam Skarloff, AXXESS Networks CEO.
About AXXESS Networks
AXXESS Networks is leading national VoIP telecommunications provider serving business customers in INDATEL member areas across the country. AXXESS Networks backbone network is Geo-Redundant in an active-active mode insuring reliability with no downtime. AXXESS Networks is the only UCAAS provider to offer "Hot Failover" to 4G LTE, without dropping a call in progress due to an internet outage. AXXESS Networks can integrate with more than 100 CRM packages and provides each customer with several features at no cost, including 99- participant conference bridging, QoS router, Executive phones, voice mail to email transcription, remote monitoring, no installation costs, and several other features. For a complete list of features and more information about AXXESS Networks, visit www.axxessnetworks.com/phone-services
About INDATEL Services
INDATEL Services provides telecommunication services through its members and customers across America. INDATEL is uniquely positioned to provide telecommunications services via 30 state and regional wholesale member-owners and affiliates serving more than 5,000 communities. INDATEL's national members represent more than 100,000 fiber-optic route miles and 400,000 serviceable buildings. INDATEL and its members serve 1,100 nationwide points of presence representing 700 independent Rural Telephone providers operating in 47 states. For more information about INDATEL Services, visit www.indatel.com
About Global Secure
Headquartered in Indianapolis, Global Secure is a national sales partner for several industry-leading information technology solution providers. Global Secure's business lines include AXXESS Networks feature-rich hosted VoIP/UCAAS solutions, AppGuard End Point, Server, and Mobility Security services, full-service Cisco maintenance plan alternatives, LED intelligent lighting solutions, and wholesale, domestic, international long distance and toll-free 800 services. For more information about Global Secure, visit www.globalsecure.solutions