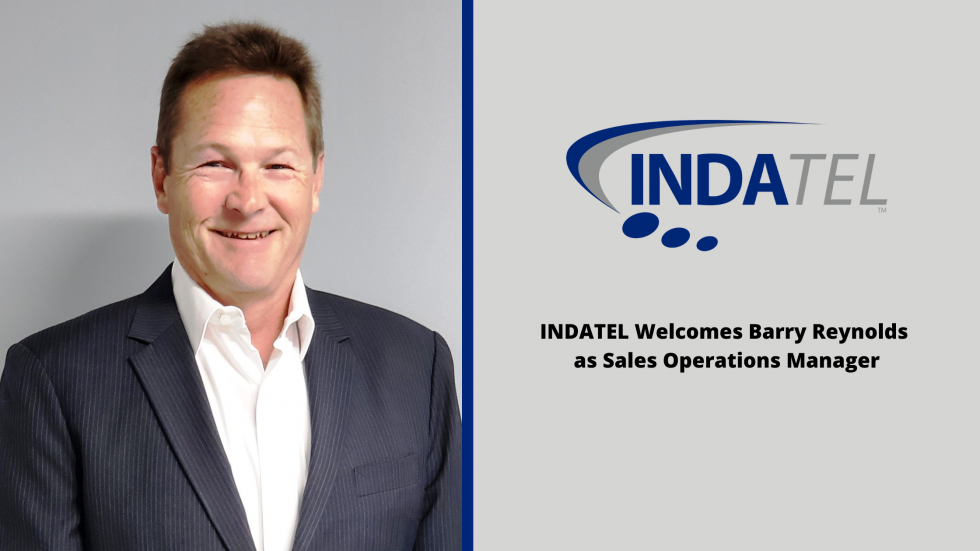 INDATEL Welcomes Barry Reynolds as Sales Operations Manager
November 13, 2020
It is with excitement that INDATEL announces the recent addition of Barry Reynolds to our team as Sales Operations Manager. In this role, Barry is responsible for integrating our whole sales approach and making sure that our customers and members are in sync. Like many INDATEL employees, Barry has prior experience in the telecommunications industry.
Before starting his career in telecommunications, Barry was a member of the United States Army. For four years, he worked on ground station equipment repair and traveled overseas with them as well. Although he enjoyed it, he realized he could make a better living outside of the Army. From there, he was offered a job at MCI Telecommunications in Chicago which is now Verizon. "I stayed with MCI through multiple mergers, acquisitions and bankruptcies," he said. "Between MCI and Verizon, I spent a total of 31 years at the Company."
In 2018, Barry left his job at Verizon to explore other areas of interest to him. He decided to get his commercial driver's license and become a truck driver for a few years. During that time, he and his wife moved to a more rural area and have since enjoyed farming the surrounding land. Barry then reconnected with a previous acquaintance that pointed him in the direction of INDATEL, as we were hiring at the time.
The small number of employees, large opportunity for growth and the Company's agile atmosphere is what initially drew Barry to INDATEL. "I follow a lot of tech companies on LinkedIn and had already been following INDATEL for a couple of years when the opportunity came up," he said. "Their focus on rural America is also what really caught my eye because I know how challenging it can be to get into those areas."
According to Barry, one of the reasons he decided to join the INDATEL team was the chance to bridge the gap between our customers and members. In his role, he recognizes what the customer needs are and what our members can provide to them. "I have the ability to close the communications gap," he said. "I'm a very social person and I love that I get to talk to people every single day in this position."
When asked what he enjoys most about working at INDATEL, Barry explained that he loves how eager everyone is to do something and truly make an impact. He also enjoys the level of flexibility and the fact that communication is encouraged from the highest level in the organization. "I'm the newest employee on the team and I sit on weekly calls with the CEO of the Company," he laughed. "And, I know that he's there to help me out if I need anything."
In his free time, Barry loves driving trucks and tractors. In fact, he mows two acres of land every week and has fun doing it. While he enjoys traveling with his wife and exploring new places in the world, he is perfectly content living in North Carolina and being close to his family. Barry and his wife also love spending time outdoors with their golden retriever, Gracie.
Barry is looking forward to bringing his international business and prior telecommunications experience to INDATEL, as well as his ability to communicate with people from all walks of life.
About INDATEL Services
INDATEL Services provides fiber connectivity utilizing its unique independent member network. INDATEL's members represent more than 400,000 fiber-optic route miles and over 1.5 million serviceable buildings primarily focused on rural and suburban America. INDATEL serves its customers through its national aggregation PoPs reaching over 700 independent providers currently operating in 47 states. For more information about INDATEL Services, visit www.indatel.com