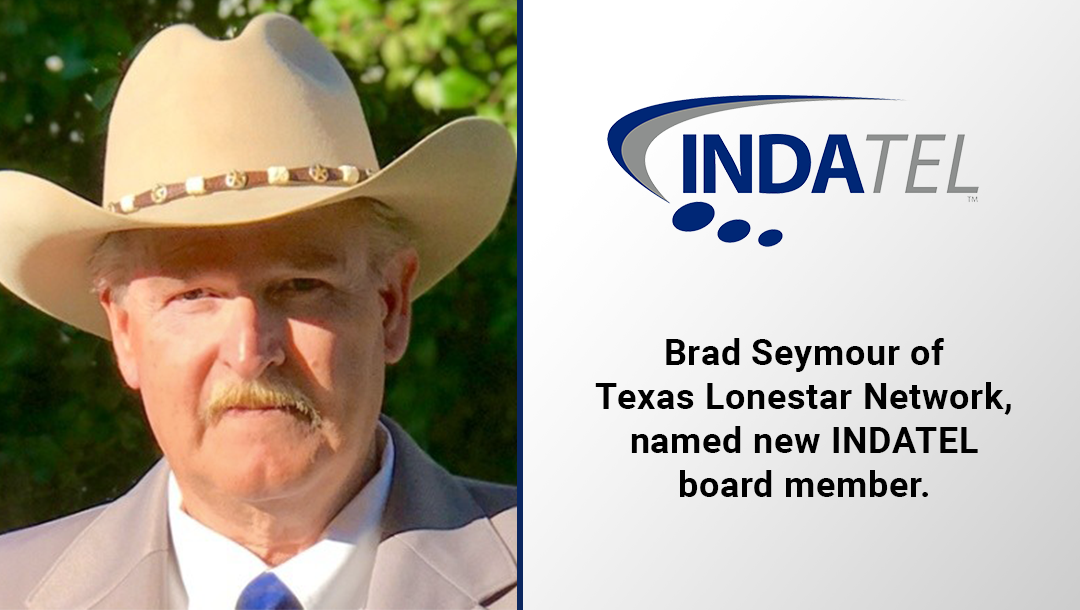 Brad Seymour of Texas Lone Star Network Joins INDATEL Board
Overland Park, KS., July 9, 2020/ INDATEL is excited to announce the addition of Brad Seymour, General Manager of Texas Lone Star Network, as a new member of the INDATEL board.
Brad Seymour has been the General Manager of Texas Lone Star Network for the past 15 years and is now bringing his industry experience to the INDATEL team. "I started out in telecom the year I got married," Brad explained. "That was in 1986 – I've been in this business in different capacities for the past 34 years."
For the first ten years of his career, Brad worked with a long-distance carrier in west Texas until he transitioned to help start the Texas Lone Star Network (TLSN). "I was just an independent contractor at that time," Brad said in a recent interview. "As we started putting things together at TLSN, they hired a gentleman named Russ McNeil as the general manager. Russ was one of the three original founders of INDATEL."
During the interview, Brad mentioned that he's full of 'funny old stories.' "I recall driving all over Texas with our TLSN business plan and just handing it out to companies," he said. Between 1998 and 2000, Brad worked to kickstart TLSN, and then moved to an account executive role at a large national carrier. "Sometimes I compare myself to Steve Jobs," Brad laughed – "I helped start TLSN, left, and then they let me come back."
Texas Lone Star Network is now comprised of 41 companies, ranging from small rural organizations to large enterprises. Regarding his time at TLSN, Brad reflects that it has been a great experience. "The TLSN team is so dedicated to providing high quality services to their customers in rural Texas. Some of them cover some fairly large cities, but for the most part they're smaller cities, ranches, and farms."
"We're very excited to have Brad on our board." Says Justin Forte, Vice President of Sales at INDATEL. "Brad's extensive industry experience and connection to INDATEL over the years makes him a wonderful addition to the team."
Brad will be the first TLSN representative to sit on the INDATEL board since Russ McNeil retired in late 2005. As part of his board membership, Brad looks forward to supporting INDATEL's current initiatives, as well as introducing new ideas. "First and foremost, I want to support everything that INDATEL has been doing. They do a fantastic job, and I'd just like to continue that moving forward." As a new board member, Brad is also curious to explore the idea of Edge Data Centers – a concept which provides faster internet access to people in rural areas by converting empty central office buildings into small local data centers.
"At the last Summer Symposium, INDATEL's CEO, Mel Wagner, brought up the idea of Edge Data Centers," said Brad. "This Edge Data Center concept is something I think can be developed by INDATEL throughout their 30-state footprint."
In addition to his work at TLSN, Brad is an avid musician and golfer. In his free time, Brad enjoys playing guitar and bass, and even records his own original songs. When playing golf, Brad recalls the time he won the long drive contest at the INDATEL Summer Symposium in Indianapolis. "When I hit my drive and they announced I won, I couldn't help but show off to all the younger competitors that they lost to a man who is 63!"
Brad is excited that INDATEL's board has maintained its collaborative spirit throughout the years. "I love getting together with the INDATEL board members and getting to know what they're doing," Brad explained. "Before INDATEL started selling services, they were a trade organization where we would exchange ideas – I love that we still emphasize that aspect of our meetings today."
——-
About Texas Lone Star Network
TLSN is a consortium of 41 rural telecommunications carriers in Texas. Their member owners have been providing quality services to rural Texas customers for 50 to 100 years. TLSN was established in 1998 to coordinate the completion of the member owned statewide fiber-optic network.  TLSN provides private line transport connectivity to some of the largest data centers in Texas and internet bandwidth via 13 Cisco ASR9000 Series Routers, one of the largest IP/MPLS networks in Texas. To learn more about TLSN, visit their website at www.tlsn.us
About INDATEL Services
INDATEL Services provides telecommunication services through its members and customers across America. INDATEL is uniquely positioned to provide telecommunications services via 30 state and regional wholesale member-owners and affiliates serving more than 5,000 communities. INDATEL's national members represent more than 100,000 fiber-optic route miles and 400,000 serviceable buildings. INDATEL and its members serve 1,100 nationwide points of presence representing 700 independent Rural Telephone providers operating in 47 states. For more information about INDATEL Services, visit www.indatel.com