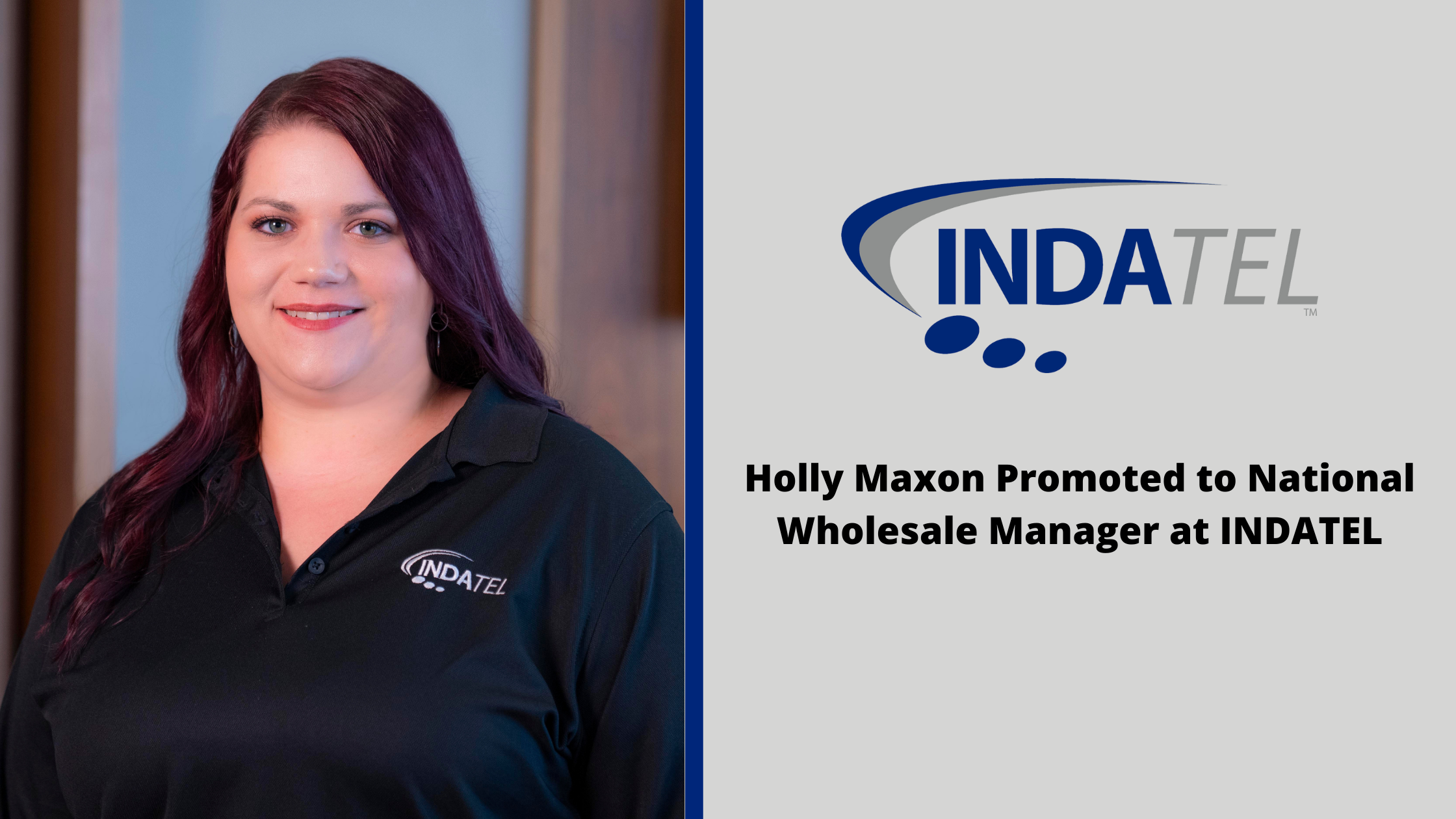 Holly Maxon Promoted to National Account Manager at INDATEL
Overland Park, KS – February 17, 2022 – INDATEL is excited to announce the promotion of Holly Maxon to National Account Manager. Holly has been with the company since July 2020 and previously served as Sales Coordinator at INDATEL.
Holly started her career in retail, working for a nationwide general merchandiser for 11 years. While pursuing her bachelor's degree in Business Management, Holly worked her way up within the retail company and landed a management position. It was then that she realized she had a passion for the development of others.
After her retail management role, Holly began working for a financial company that served the transportation industry, where she helped support customers. She worked there for about 2 years before making a career change and starting with INDATEL. As Sales Coordinator at INDATEL, Holly served as a direct line for quote requests, ensuring client needs were met and fulfilling special projects. Holly also worked closely with the late Diana Dreyer, former National Wholesale Manager at INDATEL.
According to Holly, stepping into her new role wasn't a choice in her eyes as she knew it was exactly what Diana would've wanted. "It's not easy to fill someone's shoes when they were so big, but I'm trying. It was such a privilege to work directly under Diana, and that is something I'm grateful for every day," Holly said. "She was my mentor, so it's been hard. Her absence has been felt by me, INDATEL, our members, and our customers. She had such a passion for what she did here at INDATEL and was a cornerstone for our success."
As National Wholesale Manager, Holly has enjoyed getting more familiar with the members within the INDATEL community and discussing how we can better align on business goals and come up with ideas to be more successful in our partnerships. "I love being a solutions seeker and problem solver, so it's exciting to get the opportunity to do that," she said. "As for the day-to-day aspect of my new position, I'm looking forward to being more engaged with customers and members."
Holly has short-term, big-picture, and personal goals as she takes on her new role within the company. As for her short-term goal, Holly is looking forward to helping onboard and developing the expanding sales team, as INDATEL recently hired additional sales support staff. Her big-picture goal is to continue being engaged with customers, including current customers, new customers, and prospects, to see how INDATEL can enable them to close current coverage gaps and win more business for members. Finally, Holly's personal goal is to be as knowledgeable and successful in her position as Diana was.
According to Holly, her favorite aspect of working at INDATEL is that the entire team operates as a community. "It takes a village," she said. "Our sales and operations team are cohesive, and we rely on each other to ensure we're providing a great customer experience."
In her free time, Holly enjoys cheering on Kansas City sports and spending time with her family, including what she calls her small zoo of pets. She also loves cooking and baking and is always trying out new recipes. A fun fact about Holly is that the pandemic turned her into what she calls a "crazy plant lady." As a result, she now has over 50 plants at home!
Congratulations, Holly!
About INDATEL
INDATEL Services provides fiber connectivity utilizing its unique independent member-owned network. INDATEL's members represent more than 400,000 fiber-optic route miles and over 1.5 million serviceable buildings primarily focused in rural and suburban America. INDATEL serves its customers through its national aggregation PoPs, reaching over 700 independent providers currently operating in 47 states. For more information about INDATEL Services, visit www.indatel.com.