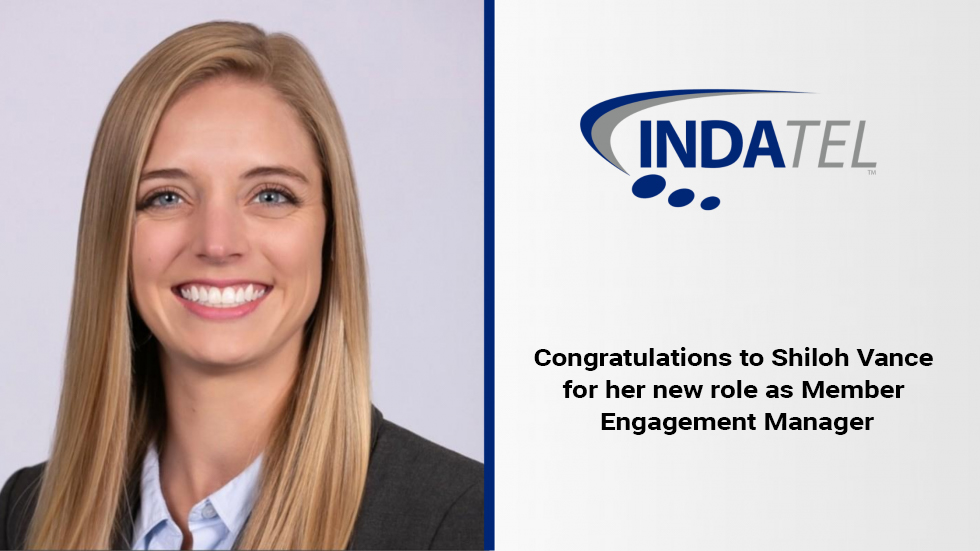 INDATEL Promotion: Shiloh Vance as Member Engagement Manager
INDATEL is excited to announce the promotion of Shiloh Vance to Member Engagement Manager. Shiloh has been with the company since July 2020 and previously served as Sales and Project Coordinator.
"INDATEL is thrilled to have our very own Shiloh Vance help us in a role that is very much needed. We have always been dedicated to solving problems for our members and promoting their growth. We are confident that Shiloh's talents will further show our commitment to our mission," said Justin Forte, Vice President of Sales at INDATEL.
The Member Engagement Manager position is a new role at INDATEL. It was created to reinvest in the relationships INDATEL has with our current members by promoting INDATEL services and helping them to grow. In her new role, Shiloh is tasked with building positive relationships with members through outreach and regular communications. She provides and sells new services to INDATEL members including transport, peering, transit, cloud, traditional Ethernet, and other solutions as they evolve.
"What's so wonderful about our members and the INDATEL team is that they understand that this is a new role," Shiloh said. "Everyone has been fantastic to work with and has helped educate me on the fundamentals to be really successful in this position."
In addition to selling and growing revenues, Shiloh is responsible for retaining existing member revenues and renewing services. She is also tasked with growing membership through outreach and vetting. Although Shiloh is the first to fill the Member Engagement Manager position, it is an important and respected role within INDATEL and is critical for the successful execution of the company's strategic plans.
"Shiloh will be shaping and providing a fresh new approach to the member experience. She has the relationship building and solutions skills that our members value," Justin said.
Shiloh anticipates that she will be able to make quite an impact in her new position, especially when it comes to retaining new members. She is looking forward to cultivating feedback that is constructive to all parties involved and utilizing it to learn where INDATEL can better help members. Shiloh is also hopeful about the growth of INDATEL membership, as well as the growth of the INDATEL internal team. "This is such a wonderful place to work, and I'm really excited for other people to have an opportunity to work at INDATEL in the future," she said.
When asked what she is looking forward to most about her new role, Shiloh explained that she is excited to travel and interact with members on a more personal level. "I'm looking forward to having face-to-face interactions with our members and cultivating those relationships," she said. "When you're working remote, it can be difficult to have those deeper conversations to really understand what members are looking for. This role will help us to solve problems and achieve long-term goals. It puts a face to INDATEL."
About INDATEL
INDATEL Services provides fiber connectivity utilizing its unique independent member network. INDATEL's members represent more than 400,000 fiber-optic route miles and over 1.5 million serviceable buildings primarily focused on rural and suburban America. INDATEL serves its customers through its national aggregation PoPs reaching over 700 independent providers currently operating in 47 states. For more information about INDATEL Services, visit www.indatel.com.