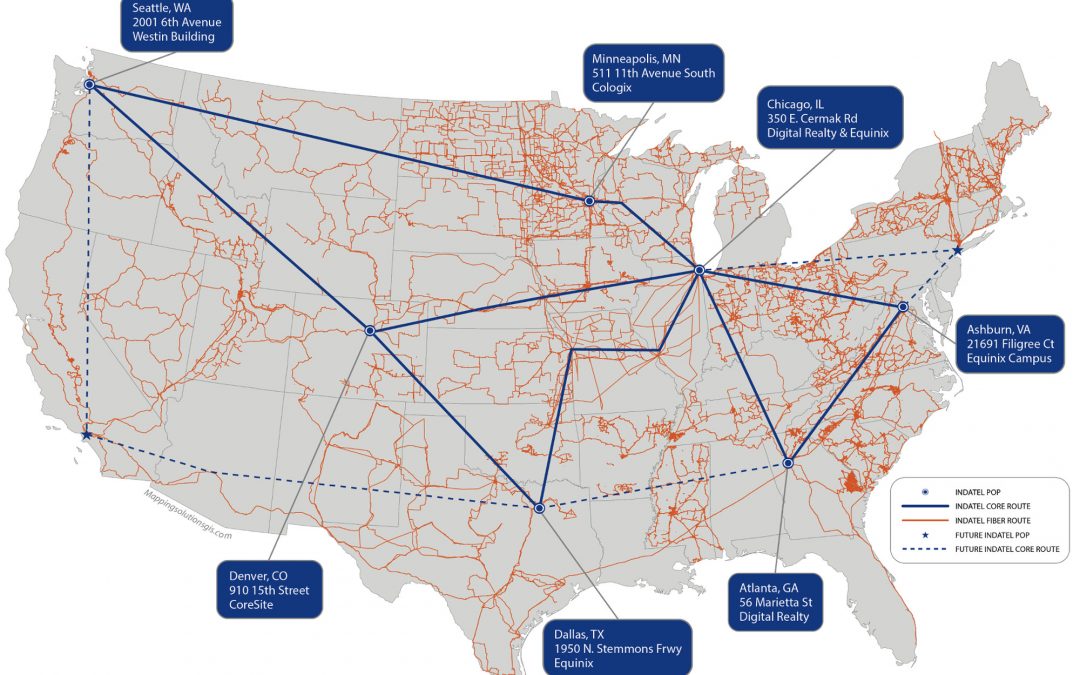 INDATEL SERVICES ADDS NEW MEMBERS
INDATEL™ Services
Connecting You to Rural America 
October 22, 2018 – INDATEL, a nationwide facility-based Ethernet solutions provider servicing rural and urban communities with a proven track record to deliver reliable broadband connectivity via fiber-optic network routes across America.  INDATEL is uniquely positioned to provide broadband telecommunications services to many places other carriers cannot (or will not) service today with their powerful network comprised of over 100,000 fiber-optic route miles of middle-mile network and hundreds of thousands last-mile fiber-optic facilities through strategic partnerships with Members/Owners & Affiliates.
The INDATEL network collectively represents 30 statewide & regional Member/Owners and Affiliates with more than 700 independent rural exchange providers to service more than 300,000 member serviceable buildings, 1,100 Points of Presence (PoPs), and 5,000 communities using six nationally aggregated PoPs. Service offerings include Content Delivery Network (CDN), Peering, Service Exchange Cloud, IP Transit and Carrier Ethernet.
According to Mel Wagner Jr., INDATEL Chief Exectuive Officer,  "INDATEL has successfully positioned itself as a national carrier to reach rural america through our network—coupled with the power to scale—providing Carrier Ethernet solutions (our bread and butter), we believe no one else can match it in the industry.  With our expert teams, tools and network, we're excited about our unprecedented success and limitless opportunity to deliver Ethernet connectivity, Content Delivery, Peering and Internet to our customers".
The INDATEL collaborative nationwide network business model provides government, wireless and enterprise customers a single onestop shop for quotes, orders, service delivery, network operations and billing—simply offering a single national point of contact for carriers and systems integrators. The INDATEL Carrier Wholesale Divison core strategy is to provide simple national pricing & bundling for over 300K buildings with targets to garner over one million buildings.  The building sites are primarily located in rural locations where carriers often find it difficult to deliver services. Nearly 700 independent local providers make up the INDATEL 30 Statewide Members/Owners and Affiliates.
INDATEL offers unparalleled value for their wholesale clients to connect Ethernet services through a rural independent provider of networks using aggregated PoPs in Ashburn, Chicago, Dallas, Denver, Minneapolis and Seattle—with more locations coming!
INDATEL continues to expand their nationwide footprint encompassing an impressive 30 statewide Member/Owners and Affiliates, including two new statewide/regional members—Hilliary Communications and C Spire—as part of their strategic advances to add a major Mississippi and Oklahoma presence to the INDATEL family.
About Hilliary Communications – www.hillcom.net
Hilliary Communications is an innovative provider of ultra-fast broadband, digital cable TV and telephone services in residential and business customers across Oklahoma.  The first chapter in our success story began in 1911 with Medicine Park Telephone Company, formed to provide telephone service to Medicine Park resort community.
About C Spire – www.cspire.com
C Spire provides a full suite of world-class, customer-inspired dedicated Internet, IP Voice, data, managed services, cloud services, value added resale and mobile communications to businesses and wireless, 1 Gigabit consumer Internet access and related home services for consumers.  For more information about C Spire, visit cspire.com or follow us on Facebook at facebook.com/cspire or Twitter at twitter.com/cspire.
Stop by booth 113 to learn more about INDATEL Services and check them out at www.INDATEL.com.