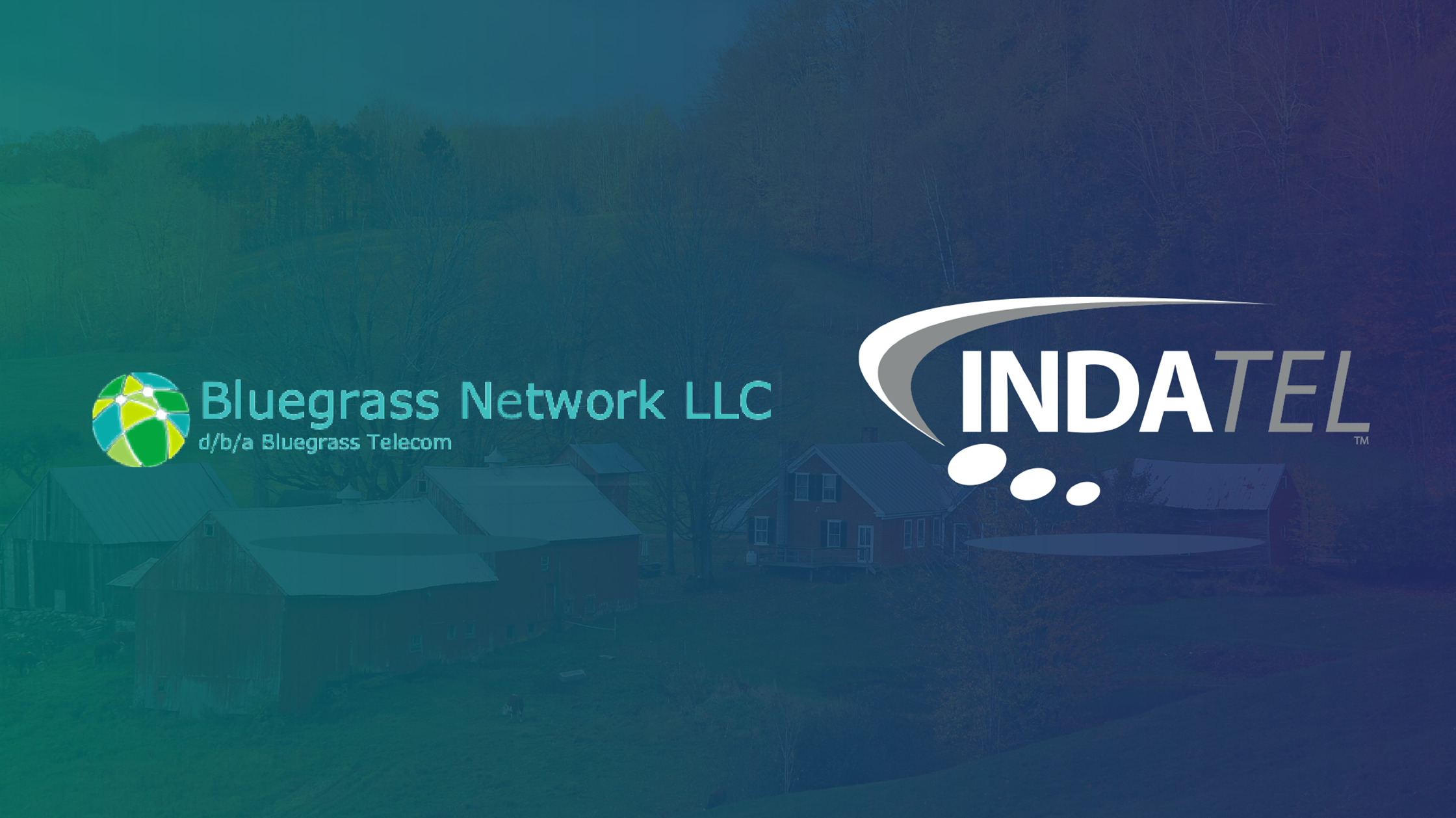 INDATEL Welcomes Bluegrass Network as New Member
Overland Park, KS – July 26, 2022 – INDATEL is excited to announce the addition of Bluegrass Network to our member family. Each of our members are selected carefully and excel in delivering reliable broadband connectivity via fiber-optic network routes throughout rural and metro communities. We are pleased to add Bluegrass Networks as a new member to continue our shared mission of connecting rural America.

Bluegrass Network was formed in 1995 when four local telcos and one private company came together to build a fiber-optic network ring that would connect them to a shared location in Bowling Green, Kentucky. These local businesses included Brandenburg Telephone Company, Duo Broadband, LTC Connect, NCTC, and South Central Rural Telecommunications Cooperative, all of which used this connection to support a Kentucky Information Highway contract. After this initial project, the companies built an internet backbone and started providing internet services to their partners – and it has grown exponentially from there.
Today, Bluegrass Network touches 25 counties in Central Kentucky, boasting more than 500 miles of fiber optics in the air and ground. Their network has expanded to service a wide variety of clients, including banks, cellular companies, factories, government offices, medical facilities, and more. Their focus is on providing the solutions businesses need to be successful, while nurturing long-term professional relationships. The Bluegrass Network team is known for offering personal support – when you call or email, you speak to a real person, and likely someone you actually know.

When asked about their recent acceptance as a member at INDATEL, Bluegrass Network President & General Manager, Doug Updegraff, says that the membership will help them gain exposure on a national scale. "We had heard about INDATEL years ago, and now is a great time for us to become a member and get our name out there," said Doug. "Our goal is to build brand awareness for Bluegrass Network and our partners, and INDATEL is where we can network with other companies who are also at the forefront of Ethernet services."

In the upcoming year, Bluegrass Network and their team look forward to engaging with INDATEL and its members and affiliates to learn what's trending in the market and incorporate this information into long-term plans. "I started working in this industry in 1993," Doug explained. "I saw us get our central office off the ground, all the way through to where we are today. We have a solid, experienced group of leaders, and I'm excited to lead Bluegrass Network with my team into this new territory as an INDATEL member."
INDATEL values their member relationships and have built an exceptional reputation in the industry for delivering Ethernet, transit, peering and cloud services to rural America. We are excited about our partnership with Bluegrass Network and hope to have them as a part of the member family for years to come.
About INDATEL
INDATEL Services provides fiber connectivity utilizing its unique independent member network. INDATEL's members represent more than 400,000 fiber-optic route miles and over 1.5 million serviceable buildings primarily focused on rural and suburban America. INDATEL serves its customers through its national aggregation PoPs, reaching over 700 independent providers currently operating in 47 states. For more information about INDATEL Services, visit www.indatel.com