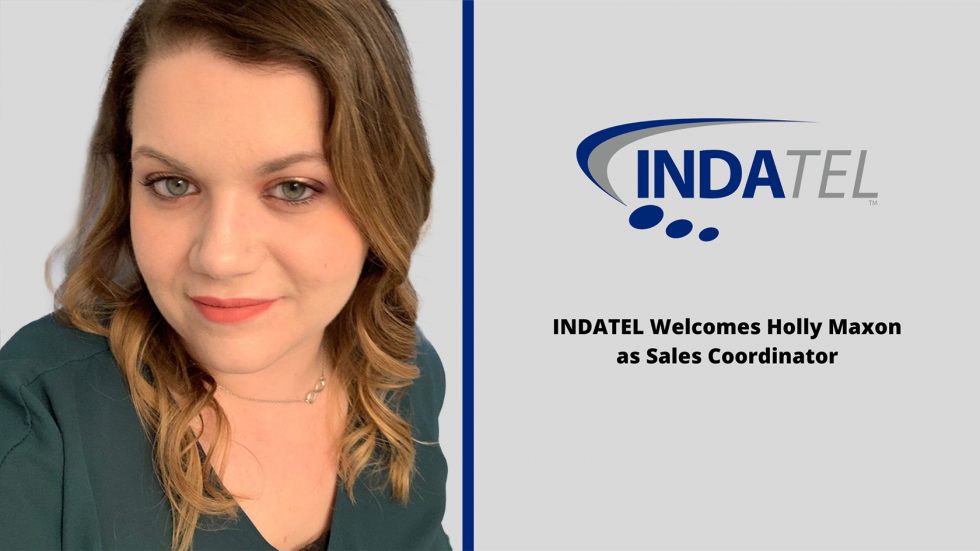 INDATEL Welcomes Holly Maxon as New Sales Coordinator
September 14, 2020
INDATEL is thrilled to announce the expansion of our team with the addition of Holly Maxon as Sales Coordinator. In this role, Holly works directly with other INDATEL team members and is responsible for ensuring that client needs are met. Although Holly is new to the telecom industry, she works primarily with Diana Dreyer – INDATEL's National Wholesale Manager – who has worked in the telecom industry for over 21 years. "Having the team on my side has been really beneficial in getting me onboarded with the company," Holly said in a recent interview.
Holly's education and experience in retail and financial services give her the customer service and organizational skills to succeed in her Sales Coordinator role. Holly started her career in retail, working for a nationwide general merchandiser for 11 years. While pursuing her bachelor's degree in Business Management, Holly worked her way up within the retail company and landed a management position. After her retail management role, Holly began working for a financial company that served the transportation industry, where she helped to support customers.
In the summer of 2020, Holly was ready to explore her next career opportunity. After hearing about INDATEL from a past coworker, she applied. In a matter of three days, Holly met with the INDATEL team, interviewed, and was extended an offer. "I love being involved in helping to build other people up, and INDATEL is really expanding. I'm excited to see what my career future holds as INDATEL continues to grow," Holly said.
When asked what she enjoys most about working at INDATEL, Holly explained that she enjoys that everyone at INDATEL wants to make sure that you're successful in your role. "I really appreciate the company culture. It's a really open environment. Questions are welcome, and everyone makes time to answer those questions and provide feedback – both positive and constructive," Holly said. "You can't buy relationships. That's something that I value about INDATEL."
In her free time, Holly enjoys spending quality time with her nieces and nephews, as well as her six pets – five cats and one dog. When she's not with them, she loves to throw down in the kitchen. "I love to bake… My first two days in the office I brought in danishes and chocolate croissants," she laughed. "Everyone in the office loved them!"
Holly is looking forward to bringing her customer service background to the telecom industry and is excited to keep getting to know the INDATEL members. She is interested in learning what their needs are and how she can best support them along their journey.
About INDATEL Services
INDATEL Services provides telecommunication services through its members and customers across America. INDATEL is uniquely positioned to provide telecommunications services via 30 state and regional wholesale member-owners and affiliates serving more than 5,000 communities. INDATEL's national members represent more than 400,000 fiber-optic route miles and 1,000,00 serviceable buildings. INDATEL and its members serve 1,100 nationwide points of presence representing 700 independent rural providers operating in 47 states. For more information about INDATEL Services, visit www.indatel.com