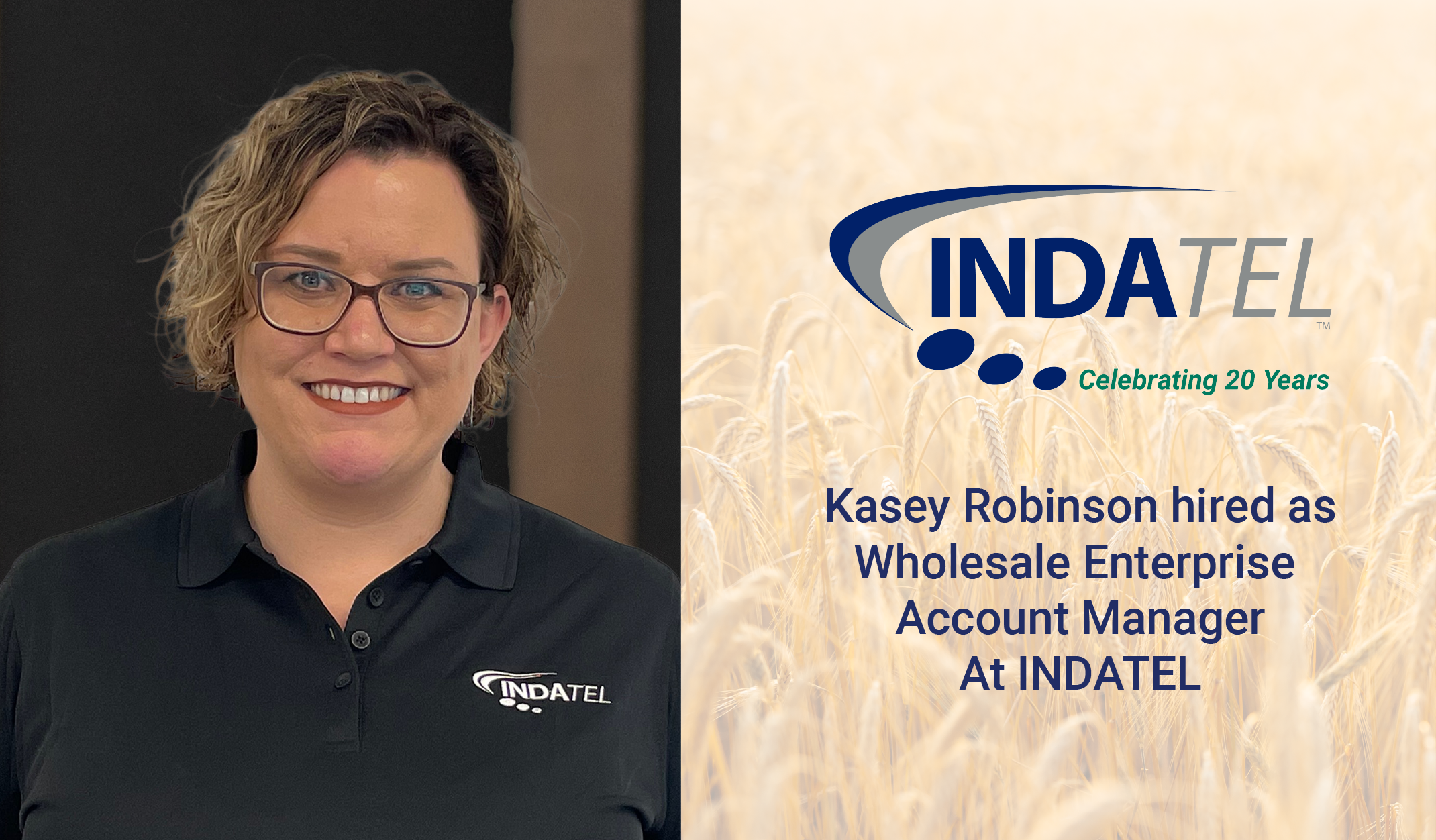 INDATEL Welcomes New Employee Kasey Robinson
Overland Park, KS – March 20, 2023 – INDATEL is excited to announce the hiring of Wholesale Enterprise Account Manager Kasey Robinson. The Wholesale Enterprise Account Manager is responsible for working INDATEL member companies, handling quote requests, and pricing for their opportunities. "View it as a bridge for the enterprise and wholesale teams," Robinson said, "we can now be that nationwide provider for them, that single point of contact."
Robinson joins the team in this new role at INDATEL through our creation of the WE model – the Wholesale Enterprise model. "This is a great time to celebrate our advancements at INDATEL. This model is an innovative approach to strengthening our member network reach in combination with serving enterprise accounts on a national scale. Ms. Robinson is the perfect fit to carry out the vision of enhancing rural communities one connection at a time," explained INDATEL's CEO, Mel Wagner, Jr.
Kasey joins us from one of our member companies and has been in the Telecom industry for over a decade. "I have been watching the team at INDATEL grow and evolve; I am excited to take on the challenge with a team I have always enjoyed working with," explained Robinson. While recognizing this is a new role and a new solution for members, Kasey is looking forward to coming up with the best solutions to ease the learning curve and navigate the uncharted territory for each of our partners and members. "This will be a process of education and engagement with our members through the setup process. I am prepared to build that trust and partnership with our members and to build a solid foundation as we move forward," said Kasey.
When asked about her favorite part of the role and position, Robinson exclaimed, "The people, they are this great when you're in it. Everyone is eager to help; they are kind and welcoming as they have brought me on board. They are like one big extended family."
So, what does this mean for our member partners? First, INDATEL will work with our member partners to provide EVPL, DIA, and Wave services to businesses across rural America. The combined power of INDATEL's national scale and our superior member networks will offer the best-in-class service for enterprise businesses from small to extra-large.
About INDATEL
INDATEL Services provides fiber connectivity utilizing its unique independent member network. INDATEL's members represent over 400,000 fiber optic route miles and over 1.5 million serviceable buildings primarily focused on rural and suburban America. In addition, INDATEL serves its customers through its national aggregation PoP's reaching over 700 independent providers currently operating in 47 states. For more information about INDATEL Services, visit www.indatel.com.