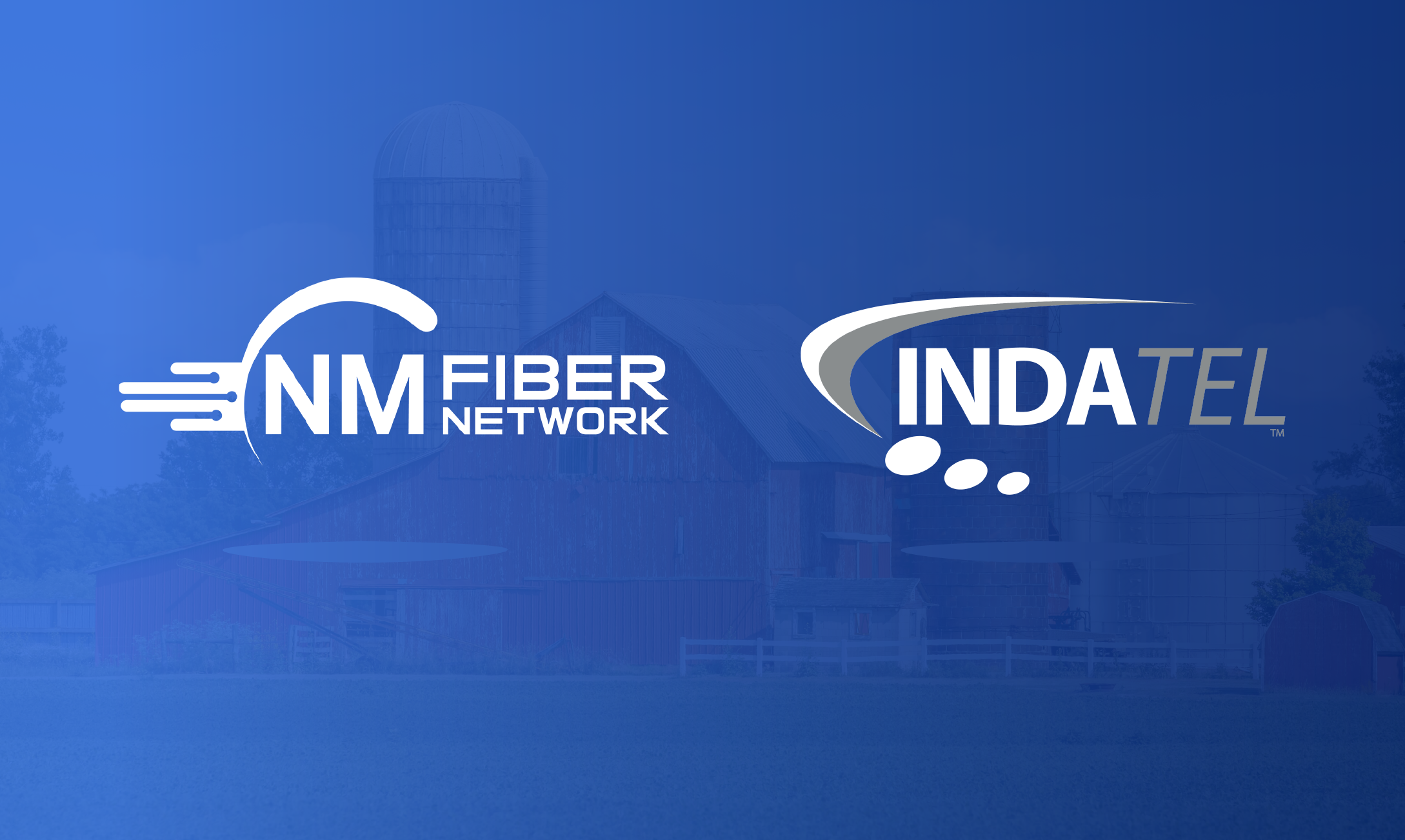 INDATEL Welcomes New Mexico Fiber Network as New Member
Overland Park, KS – August 9, 2022 – INDATEL is excited to announce the addition of NM Fiber Network to our member family. Our members care deeply for and understand the cause that is connecting Rural America. Partnership with NM Fiber Network allows INDATEL to continue this mission into yet another state, ensuring that fiber broadband services are available to rural and underserved markets.

NM Fiber Network (NMFN) was founded by 11 internet providers to address the middle mile fiber needs in New Mexico. Utilizing existing fiber networks, NMFN covers over 58% of the state, with over 12,000 miles of fiber already deployed. Their team brings an average of 60 years of experience in the telecommunications industry and represents nearly 700 employees in total, making them uniquely positioned to operate and maintain a statewide network. Joshua Beug, CEO at New Mexico Fiber Network and CEO of Tularosa Communications, says "New Mexico Fiber Network and owner-member fiber span thousands of miles across New Mexico and are well-positioned to encourage the expansion and extension of New Mexico middle-mile infrastructure to reduce the cost of connecting unserved and underserved areas."
When asked about why NM Fiber Network pursued becoming a member of INDATEL, Samantha Chavez, Marketing & Sales Project Manager at New Mexico Fiber Network and Tularosa Communications, explained the desire to learn from and participate in a nationwide network. "We know that taking part in INDATEL's network will deliver more opportunity for economic development in New Mexico. By partnering with INDATEL, we can provide wholesale ethernet solutions with one MSA (Master Service Agreement), one NOC (Network Operations Center), and seamless efforts across 37 states – through aggregation of over 700 independent telcos and electrical cooperatives," says Chavez.
Chavez also noted the fact that INDATEL membership allows NMFN to be more responsive and competitive when responding to RFPs. "Joining forces with INDATEL will allow NM Fiber Network to connect New Mexico businesses with their national corporate offices directly through a safe and secure Ethernet connection. We can compete for contracts with large corporations like Walmart, Albertson's, and other multi-location businesses because we will have nationwide network access," she says.
The NM Fiber Network team looks forward to their membership and sees partnership with INDATEL and its nationwide network as a source to help deliver scalable and reliable fiber connections to anchor institutions and business across the U.S. at competitive rates. Beug explains, "We see our INDATEL partnership as a catalyst to meet the needs of businesses in New Mexico. Our goal is to provide a robust network that brings more opportunity and economic development to our state – one that is not only built for the technological needs of today, but for the future as well."
INDATEL looks forward to continuing the shared mission of connecting rural America through the addition of New Mexico Fiber Network. To learn more about New Mexico Fiber Network, please click here to view their website.


About INDATEL
INDATEL Services provides fiber connectivity utilizing its unique independent member network. INDATEL's members represent more than 400,000 fiber-optic route miles and over 1.5 million serviceable buildings primarily focused on rural and suburban America. INDATEL serves its customers through its national aggregation PoPs, reaching over 700 independent providers currently operating in 47 states. For more information about INDATEL Services, visit www.indatel.com