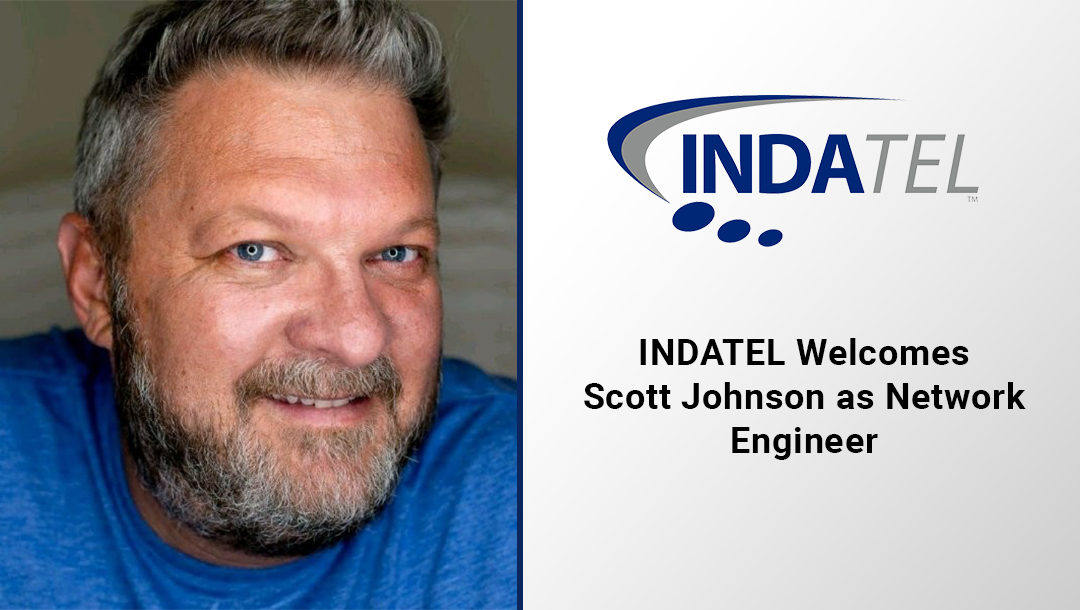 INDATEL Welcomes Scott Johnson as Network Engineer
INDATEL Welcomes Scott Johnson as Network Engineer
INDATEL is thrilled to announce yet another addition to our team. We recently welcomed Scott Johnson to the INDATEL family as our Network Engineer.
In this role, Scott works directly with INDATEL's Network Operations Center (NOC) which is located in Montana. He is responsible for making sure ticket cues are reasonable, as well as resolving any issues that come up. He also works a great deal with INDATEL's service delivery group to process orders.
Up until 2013, Scott considered himself "strictly an IT guy." He graduated from DeVry University with his degree in computer programming. Upon graduating, he held various IT positions over the years and did everything from programming to desktop support. He joined CenturyLink in 2013 which was his first introduction to the telecommunications industry. In this position, he traveled the country installing servers and learned the ins and outs of telecom, including Voice over IP and fiber.
Before joining INDATEL, Scott worked briefly at Sprint. "When I worked for Sprint, I was actually working with a NOC," he said. "So, the fact that one of my main responsibilities at INDATEL is also working with a NOC is perfect." According to Scott, the transition to INDATEL from his previous employer was an easy one as he was able to utilize a lot of his past work experience in both IT and telecom.
"A lot of what I do for the team when I'm configuring is what I did for CenturyLink, so it's worked out perfectly for me," he said. "I've also been able to draw a lot of my IT experience working with routers and switches."
Scott started at INDATEL in July 2020 as a contract employee and while he was supposed to make the transition to full-time before the end of the year, he suffered a heart attack shortly before Christmas. "INDATEL went out of their way to reach out to me and work with my wife to make sure I was okay," Scott said. "They really made an impression on me and my family during that time."
When asked what he enjoys most about working for INDATEL thus far, Scott explained that he loves that the team works so well together. "Sometimes it can be hard to go from a big corporation to a small company," he said. "INDATEL makes it easy."
In his free time, Scott enjoys spending time with his three children and five grandchildren. In fact, a major reason he decided to join INDATEL was to be close to his family. He enjoys cheering on the Kansas City Chiefs and golfing, which he recently started playing again after his surgery. Scott is also a proud veteran of the United States Army.
About INDATEL
INDATEL Services provides fiber connectivity utilizing its unique independent member-owned network. INDATEL's members represent more than 400,000 fiber-optic route miles and over 1.5 million serviceable buildings primarily focused on rural and suburban America. INDATEL serves its customers through its national aggregation PoPs, reaching over 700 independent providers currently operating in 47 states. For more information about INDATEL Services, visit www.indatel.com.