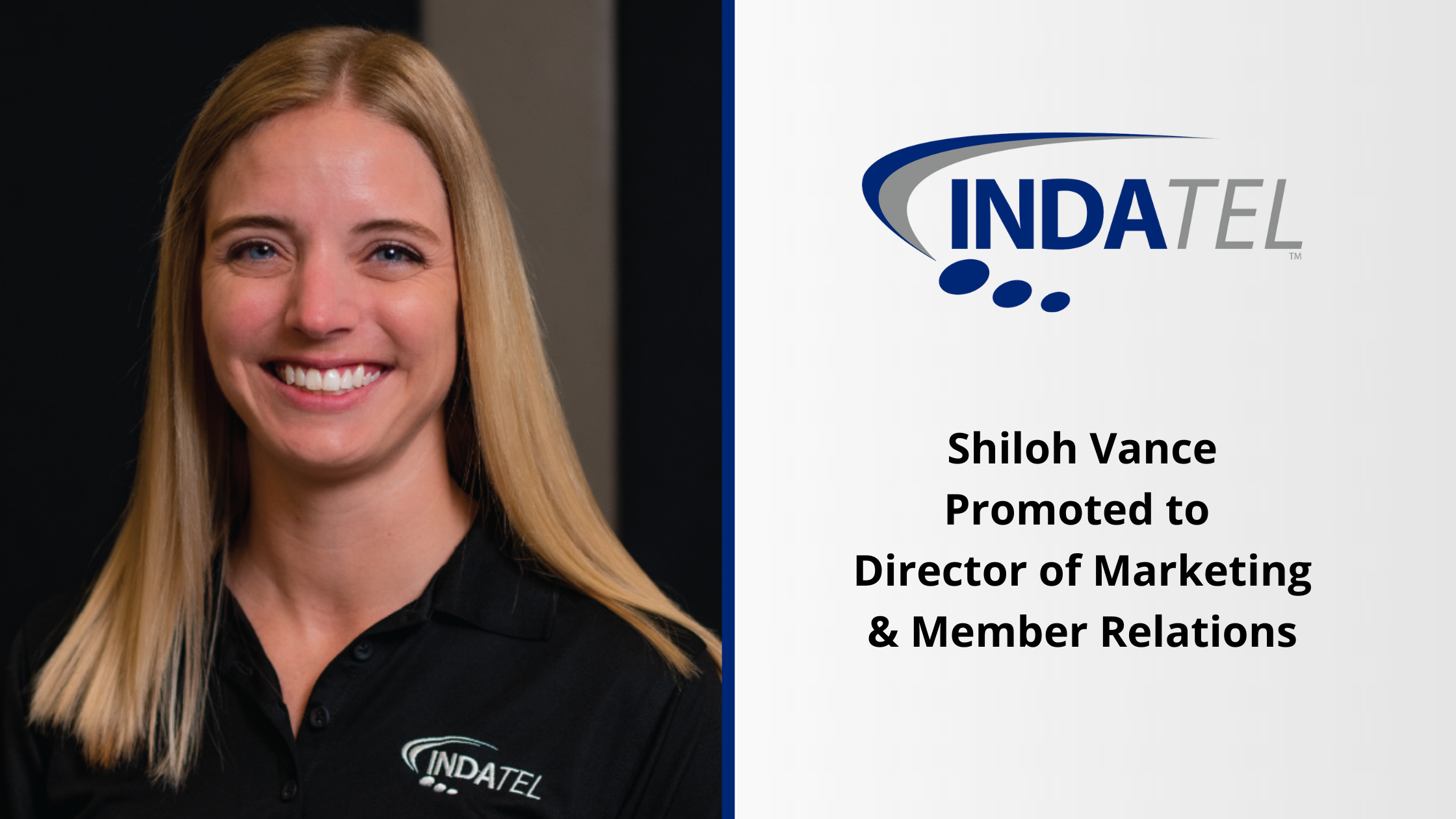 Shiloh Vance Promoted to Director-Marketing & Member Relations
Overland Park, KS – August 1, 2022 – INDATEL is excited to announce the promotion of Shiloh Vance to Director-Marketing & Member Relations. Vance has been with the company since June 2020 and previously served as Marketing & Member Relations Manager.
Shiloh Vance started her career with INDATEL over two years ago as Sales & Project Coordinator, helping to directly support Riley Mueller, National Account Manager, on behind-the-scenes sales initiatives. Early on in Vance's time at INDATEL, the leadership team identified her skillset in managing additional marketing and social media strategy. "While my main job duties consisted of supporting wholesale customer relationships and quoting, the Sales & Project Coordinator role started to evolve into something more. That is when my second role within INDATEL began as Member Engagement Manager," explains Vance.

At the time, the Member Engagement Manager role was not only a better description for what Vance was doing, but also fit a need internally to ensure that there was someone dedicated to supporting members and catering to their success. The Member Engagement Manager role included handling member quotes and needs, plus executing marketing strategy to grow the INDATEL brand.
Since her initial promotion to Member Engagement Manager, Vance has held an additional role as Marketing & Member Relations Manager before being promoted to her current title. With each promotion, Vance has been given more ownership over INDATEL's marketing strategy and initiatives. "I have our, Mel, our CEO, to thank for his long-term vision of what marketing could look like for INDATEL," reflects Vance. "Our leadership team asked me early on about what I wanted to accomplish in two, five, and ten years at INDATEL," she says. "Having leadership that actively supports my marketing background and who are invested in developing my skills is something that impressed me from day one."
"Our goal with the Director-Marketing & Member Relations role was to accelerate Shiloh's career development at INDATEL. She has done an exceptional job at managing our member communication, our marketing strategy, and networking with our partners. INDATEL sees Shiloh's role as an important step to enhancing more internal marketing support on our team which would allow us to expand on marketing to members and wholesale customers," states Mel Wagner, Jr., CEO of INDATEL. "Shiloh's talents and leadership mean we have more time and resources dedicated to expand our marketing and member support and will also allow us to identify marketing support for new channel growth in 2023 and beyond."
When asked about her goals as Director-Marketing & Member Relations, Vance says that her biggest goal is to continue building relationships with members. "Our members are always adding more people to their teams and expanding their networks and service offerings. It's important to me to be able to grow those relationships. I want to be the go-to person that our members trust to contact when they need any type of solution. Whether it's an event they're hosting, marketing and branding questions, or want off-net solutions as their network grows," states Vance.
The addition of Vance's role to grow member relationships has contributed to the fact that INDATEL has had a record year in terms of new membership. "We have had a record number of applications for new membership this year and have had four new members approved thanks to our board and Mel. I'm excited that we are able to fill gaps in coverage in states where we previously had little to none. By networking with potential partners, we are able to identify network connectivity gaps across the country based on customer demand and meet organizations who may be a good fit for INDATEL membership in the future," explains Vance.
So far, Vance's favorite part of her new role is seeing growth and collaboration between members continue to increase. "It has been amazing to see our members become more recognizable in the industry," she says. "They are doing this at an impressive rate, but INDATEL is able to support tackling additional problems and build brand awareness."
She also explains that INDATEL member exhibit collaboration unlike anything she has seen in her previous career in the finance industry. "Unlike many other industries, our members and INDATEL employees are always open to helping each other and expanding the industry as a whole. They don't hoard information. They lift each other up and share new ideas to make everyone better, which is a joy to be part of."
On behalf of the INDATEL team, we congratulate Shiloh on her new role and are excited to see where her career at INDATEL takes her in the future!
About INDATEL
INDATEL Services provides fiber connectivity utilizing its unique independent member network. INDATEL's members represent more than 400,000 fiber optic route miles and over 1.5 million serviceable buildings primarily focused on rural and suburban America. INDATEL serves its customers through its national aggregation PoPs reaching over 700 independent providers currently operating in 47 states. For more information about INDATEL Services, visit www.indatel.com.