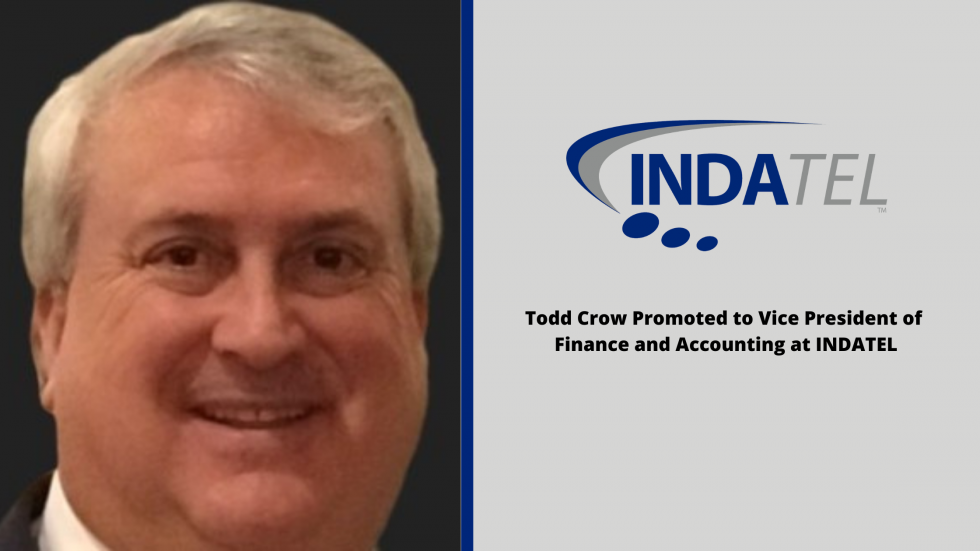 INDATEL Promotion: Todd Crow as New Vice President of Finance and Accounting
INDATEL is excited to announce the promotion of Todd Crow to Vice President of Finance and Accounting. Todd has been with the company since January 2020 and previously served as Director of Finance and Accounting at INDATEL.
At the top of his class, Todd graduated from the University of Nevada-Las Vegas (UNLV) in 1986 with his degree in accounting. From there, he continued his education at UNLV to receive his MBA in business & technology. Todd entered the telecommunications industry in 1990 and since then, has served in a variety of leadership roles. He spent most of his career working for Sprint (15 years) and CenturyLink (14 years). Todd has held managerial and supervisor positions in accounting, finance, IT, asset management, FP&A, and more.
Todd is a Certified Management Accountant (CMA), which is a professional certification credential in the management accounting and financial management fields. This certification signifies that Todd possesses knowledge in the areas of financial planning, analysis, control, decision support, and professional ethics. "With this certification, I focus more on the health and wellbeing of an organization, as well as operational and financial management," Todd said.
Todd has had many achievements throughout his career, both personally and professionally. He is proud to have contributed to one of his past employers winning of the Malcolm Baldrige National Quality Award, which recognizes organizations in the business, health care, education, and nonprofit sectors for performance excellence. Todd is passionate about serving others and has been a community volunteer for the Institute of Management Accountants (IMA) since 1982. He now serves on the executive board for the organization where he continues to pour into community, youth, arts, education, professional, and faith-based organizations.
Todd's robust career experience has contributed to his success at INDATEL. "Since joining INDATEL last January, I have seen tremendous growth," he said. "By April, I was able to fully transition all accounting and regulatory functions to our Kansas headquarters." In his new role as Vice President of Finance and Accounting, Todd handles the everyday operations and planning of INDATEL's budgeting, banking operations, and controls.
"My transition to the new role has been very smooth," Todd said. "From day one, the team made sure that I understood the architecture of the INDATEL business model." As for his goals, Todd explained that he is looking forward to continued growth. He is also set on finding methods to manage and automate processes, so that INDATEL has the capacity to carry out that growth. He is looking to automate INDATEL's sales process, delivery process, billing, and more.
"I'm most looking forward to expanding our footprint nationally," Todd said. "Our team is dedicated to further enhancing our ability to meet member needs, as both a supplier and customer." INDATEL is focused on exposing member resources on a nationwide scale.
In his free time, Todd enjoys watching sports with his family. "We're big Kanas City Royals fans, so we were all ecstatic when they won The World Series back in 2015," he said. "It was exciting for us and the entire community." Todd is a father to two sons, both of which he instilled the need to volunteer. "I'm fortunate to have my sons living with me because of the pandemic," he said. "It's been really nice having the whole family here." Todd and his family have spent a lot of time watching their dogs run around in the backyard and playing their favorite pastime, Pokémon Go.
About INDATEL
INDATEL Services provides fiber connectivity utilizing its unique independent member-owned network. INDATEL's members represent more than 400,000 fiber-optic route miles and over 1.5 million serviceable buildings primarily focused on rural and suburban America. INDATEL serves its customers through its national aggregation PoPs, reaching over 700 independent providers currently operating in 47 states. For more information about INDATEL Services, visit www.indatel.com.